Security and
Privacy
Your Frontline
Cybersecurity Defense
Remarkable Digital Experiences With
Rocksolid Security and Privacy Protection
Your customers and workforce expect secure, frictionless access while you protect personal information and company data and resources. These demands, along with rapid digital transformation, can create gaping security and privacy loopholes. Your technology ecosystem is now vulnerable to hackers and malicious or negligent insiders. There is a solution, though. Modernizing your identity and access management (IAM) can help you deliver remarkable digital experiences for all users without compromising security and privacy.
Your security and compliance teams don't have to be identity experts. We're here to help. The Identity Fusion team has supported mobile workers and enabled remarkable digital experiences for decades. Security and privacy are at the heart of everything we do.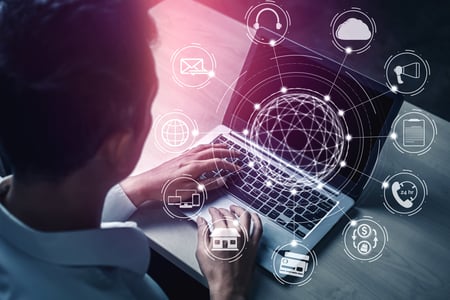 Enable secure transformation by powering business agility and growth, without compromising security and privacy.

Strengthen situational awareness through identity-first security.

Prioritize and mitigate identity-based risk.

Authenticate and continually validate access for every user and device.

Control user access at a granular level.
What Do Companies Say About IAM and Security?
%
IAM is a top technology to improve cybersecurity posture
%
Experienced a cyber attack during the pandemic
%
Malware or exploits got past their defenses during the pandemic
Source: Ponemon Institute
Security and Privacy Strategies and Tools
Mitigate risk and limit the impact of compromised identities. Treat all internal and external users as potential threats to limit the impact of bad actors. Continually authenticate and validate all identities and control access by allowing the least privileges required for each user.
API First Methodology & Microservices
Deliver microservices and better user experiences at scale, and future-proof your identity management solutions. We help you establish a secure, repeatable way to integrate APIs based on defined protocols and standardized libraries to support microservices, authentication and authorization.
Multi-Factor Authentication
Stop depending on passwords that are easily compromised. Use modern passwordless authentication such as tokens and biometrics to block account takeovers and phishing attacks.
Create, modify, delete and manage user accounts safely and securely. Use role-based provisioning to automate access changes as you launch new products and services, onboard new hires, or when employees leave or change roles within the organization.
Single Sign-On and Federated Identity
Enable SSO to allow users to access internal networks and applications with a single set of credentials such as social logins. Similarly, Federated Identity allows users to access external applications with one set of credentials.
Over time, privileges are added to accounts, leading to access creep that can jeopardize security. Our identity governance administration (IGA) solutions help you monitor access to uncover and correct over-privileged accounts and maintain a zero-trust, least privilege framework.
Let Us Help You Add IAM to Your Cybersecurity Strategy
Get our latest blogs delivered to your inbox.